Niagara-on-the-Lake is Ontario's only National Historic District. Let us tell you why it is so important to Canada's story!
Discover the beauty of Niagara-on-the-Lake with a guided tour of the town and explore the history, architecture and events of Niagara with us.
Take a stroll with a tour group, your friends, or bring your history, tourism or geography students to walk in the footsteps of our past.
Public Historical Walking Tours of Niagara-on-the-Lake
When: June - September
Saturdays and Sundays at 11 am (min 1 hour)
Where: Tours begin at the gazebo in Queen's Royal Park (end of King Street) and end at the Niagara-on-the-Lake Museum.
Cost: Tickets are $10 (includes museum admission).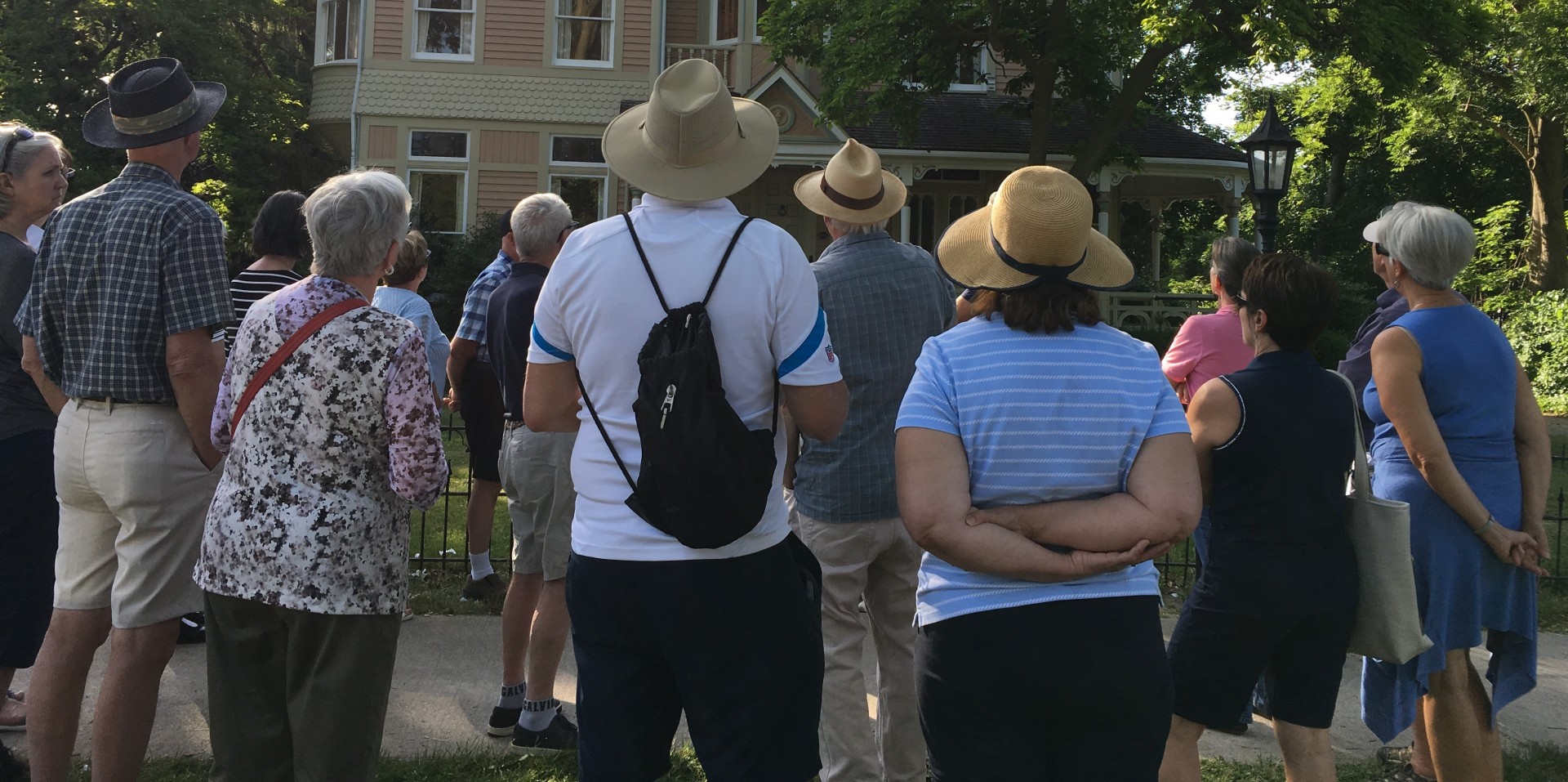 Self-Guided Tours:
Learn about Niagara-on-the-Lake's Black History with the new mobile walking tour. Visit www.vofpark.org to download the Balado Discovery app and search for "Voices of Freedom"! Recipient of the 2020 Lieutenant Governor's Award for Excellence in Conservation.
ST. DAVIDS WALKING TOUR
Enjoy a self-guided walking tour of St. Davids provided by the St. David's Heritage Committee. This was created for the 200th Anniversary of the Burning of St. Davids events held on July 19th, 2014.
Private Tour Groups
For private groups we are able to cater our walking tours to your groups' wants and needs. If you are most interested in aspects of the War of 1812, for example, we can arrange to have our tour guides put emphasis on this area.

We are able to vary the length or distance of your tour depending on the audience. If the group consists of individuals who cannot walk long distances, the tour can be altered to accommodate this. As well, the tour can start and end at various locations depending on your itinerary..
If walking the town does not interest your group, tours of the Museum can also be arranged. Guided by the Museum's Curator, the group tour gives a much more in depth look into our collection and the history of Niagara-on-the-Lake. The Museum features a permanent gallery which explores a chronological history of Niagara-on-the-Lake, as well as temporary exhibits that change a couple times each year.
COST: Museum Tour: Adults $5, Students $2 | Town Tour: Adults $10, Students $5
NOTE:
Groups must book at least two weeks in advance
There is a $100 minimum charge for town tours and a minimum charge of $50 for Museum tours
10% discount for groups of 40 or more
Tour groups can also arrange to have both a Museum and a town tour
At least 48 hours notice must be given for cancellation
Tour operators and escorts will be given free admission
Bus drop off only in front of the Museum. Buses must park at Fort George