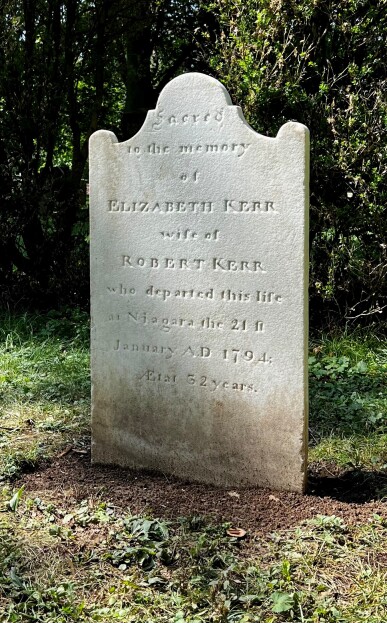 Elizabeth Kerr (nee Johnson, 1762-1794)
Thursday September 1, 2022
While there are very few historical records about the life of Elizabeth Johnson Kerr, we can piece together the life she would have led from the records of her mother, father, and future husband.
As the eldest daughter of Sir William Johnson and Koñwatsiˀtsiaiéñni (Molly Brant; see page 7), a Kanien'kehá:ka (Mohawk) woman, Elizabeth Johnson grew up straddling two cultures.
Until the age of about 12, Elizabeth lived on a grand estate known as Johnson Hall, which would have had all the comforts afforded to a wealthy European family of the period.
She also received an education at a local school in Johnstown. Elizabeth would have also learned the importance of acting as a bridge between the Mohawk and European cultures from her mother, who encouraged her to speak the Mohawk language and dress in traditional Mohawk clothing. Following the death of her father in 1774, Elizabeth moved with her family to Canajoharie, where she became fully-immersed in Mohawk culture. One such visitor described Elizabeth as "richly dressed agreeable to the Indian-Fashion".
Throughout the American Revolution, Elizabeth accompanied her mother to Montreal, Fort Niagara, Carleton Island, and Cataraqui (Kingston), and would have seen the power and respect which Molly Brant wielded amongst the Indigenous peoples and British officials. Elizabeth aided in the war effort by acting as her mother's secretary, at least when the correspondence was in English. This would have been a great benefit to her mother as she was receiving a steady stream of correspondence from British officials.
By the end of the war in 1783, Elizabeth was living with her family at Carleton Island and was now of the marrying age. Molly Brant played an active role in ensuring Elizabeth, and her other daughters were married to wealthy Europeans. Many young women met new acquaintances through balls, and we know that Elizabeth attended some at Carleton Island and at Niagara (today Niagara-on-the-Lake). However, it was right around this period when there became increased prejudice towards the Mohawk and mounting pressure to acculturate, especially for women.
Elizabeth began to experience prejudice and racism directed towards her because she was Kanien'kehá:ka. During one instance, Elizabeth was subjected to demeaning comments and threatened with rape by British Army Officers at the Niagara garrison while she was wearing traditional Mohawk clothing. It was only at a ball later that evening, while she was in a formal European ballgown, that the officers apologized for their earlier behaviour and asked her to dance. Elizabeth rightly refused.
Experiences like this led Elizabeth and other Kanien'kehá:ka of the younger generation to make the difficult decision to conform to a more English way of life, but the degree to which this occurred was an autonomous decision. Much to the dismay of her mother, Elizabeth began to shed her traditional Mohawk clothing and adopted a more British lifestyle. Elizabeth showed that she "understood clearly where social power now lay for [Kanien'kehá:ka] women". To this degree, she was her mother's daughter.
Elizabeth eventually married a respectable Upper Canadian Scotsman, Dr. Robert Kerr, around 1784, and they moved to Niagara (today Niagara-on-the-Lake) as early as 1790. While living here she would have enjoyed the lifestyle of the privileged class as her husband was the Surgeon to the British Indian Department. Sadly, Elizabeth died unexpectedly during childbirth in 1794 and is buried at St. Mark's Anglican Church graveyard. Her tombstone is one of the earliest surviving stones at this church.
The author wishes to acknowledge the help of Richard Merritt and Cecilia Morgan for providing some research material and guidance for writing this piece. The author wishes to acknowledge the help of Richard Merritt and Cecilia Morgan for providing some research material and guidance for writing this piece.
References
Flexner, James Thomas. "Lord of the Mohawks: a Biography of Sir William Johnson". Little, Brown, 1979.
Green, Gretchen. "Molly Brant, Catharine Brant, and Their Daughters: A Study in Colonial Acculturation." Annual Bibliography of Ontario History, No. 3 ed., LXXXI, The Ontario Historical Society, 1989, pp. 235–247.
Huey, Lois M. and Bonnie Pulis. "Molly Brant: A Legacy of Her Own." Old Fort Niagara Association, 1997.