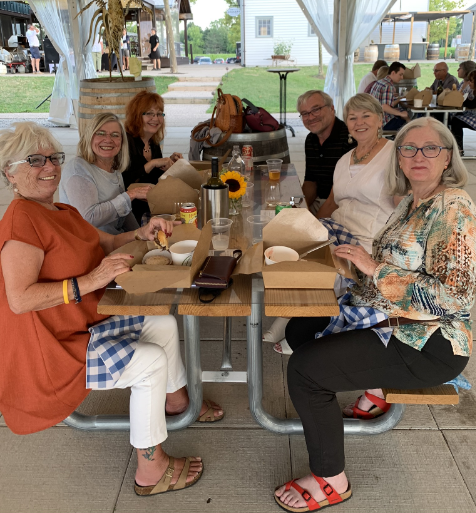 Become a member of the Niagara Historical Society...
...and gain exclusive access to the Niagara-on-the-Lake Museum and our amazing resources! If you are a lover of history or just want to help us out, membership is a great way to support our work.

Want to get involved?
Voting privileges at the annual meeting

Subscription to the NHS quarterly newsletter and weekly
e-newsletter

10% off gift shop purchases at the museum and online

Free unlimited admission to the museum

Free admission to the lecture series

Invitation to annual Members' event

Advance notice of special events

Free use of research facilities

Discounts at local participating businesses

Invitation to Members' exhibition openings
ADDED BENEFITS ON ENHANCED MEMBERSHIPS
Bring a non-member to Members' exhibition openings (1 for Individual, 2 for Dual)

Museum passes for friends and family

(4 for Individual, 6 for Dual)

Discount on select special event tickets
Student (enrolled full-time at a post-secondary institution) $15
Individual $35
Individual Enhanced $50
Dual (two people living in the same household) $60
Dual Enchanced $85
Individual Lifetime $300
Couple Lifetime $500
HONORARY LIFE
MEMBERS
Joy Ormsby
Joy has dedicated many valuable years to preserving the history of the Town of Niagara-on-the-Lake and of Canada. Since arriving in Canada in 1952, she has been an active member of her community and has left a lasting impression through her years of volunteer work. Joy has written many books on the history of the community and… She has also provided guidance and assistance to Willowbank School of Restoration Arts, the Municipal Heritage Committee, the Niagara-on-the-Lake 2012 Committee and every heritage organization in town. She has provided visitors, businesses, politicians and the people of our community an understanding of the significance of our community and done so in a way that is both sympathetic and understanding of the intricacies of preservation in a growing community.
Chris Allen
For over a decade Chris has been involved with the Museum's Collections Management committee and more recently has volunteered with exhibitions. He has grown up in NOTL and has developed a keen eye for identifying significant pieces that tell the story of our town. An avid collector himself, he has donated hundreds of artefacts to the Museum's collection over the years and has contributed to several of our exhibitions.
Richard Merritt
Dr. Richard Merritt has been a volunteer for over 20 years. He is extremely knowledgeable about our town's history and has made great contributions to the preservation of our past. His extensive knowledge has been a great asset to the Museum as a former Board President, a long-time member of the Collections Management committee and a key contributor to the publishing history of the Society. He is a great supporter of the Society & Museum and has donated many significant pieces to the collection, preserving the town's history for generations.
Bob Knight
Bob has volunteered at the Museum for over 25 years, first as a member of the Museum's Board, then as a member of the Collections Management Committee, and latterly as its chair. He is presently cataloguing the early correspondence of the Society (1890's-1930's).
Nancy Butler
After a long career as a Librarian and educator, Nancy Butler first became involved with the Niagara Historical Society & Museum shortly after moving to Niagara-on-the-Lake in the 1980s. She soon became Program Chair on the NHS board and, in 1986, Society President. She was instrumental in planning many of our early programs and fundraisers, organizing the 90th Anniversary of the Society\, working with the Shaw Festival to launch an exhibit to celebrate their 25th year, and was a key contributor to the publishing history of the Society. As a member of a newly formed publishing committee in the 1990s, she was involved in a publication of significant houses in Niagara-on-the-Lake by Mika Publishing, a reprint and enhanced publication of the Battle of Fort George, and was co-editor of The Capital Years, Niagara-on-the-Lake 1792-1796. Probably her most well-known contribution to publishing is co-authoring the book Slavery & Freedom in Niagara. Nancy has also spoken extensively on the topic and still assists researchers with finding out more about black history in Niagara-on-the-Lake.