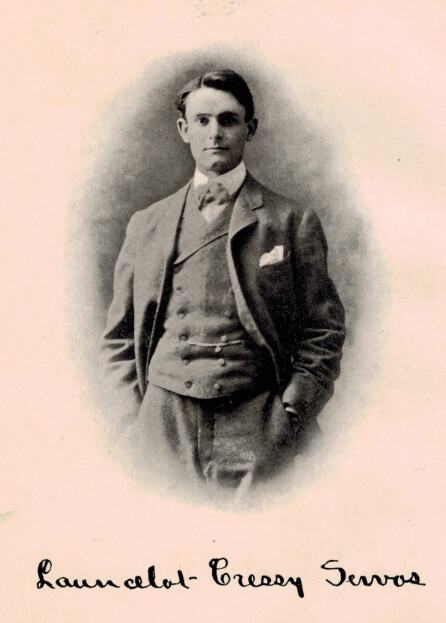 Launcelot Servos (1879-1969)
Thursday August 4, 2022
Launcelot Servos was a golf professional, instructor, and course designer, as well as an author and playwright. He was born into the prominent Niagara-on-the-Lake Loyalist family while his parents, John D. and Hannan Catherine (nee Lowe) Servos were living in Buffalo, New York. The Servos family returned to Niagara-on-the-Lake when Launcelot was around one year of age. While living in Town, Launcelot is said to have learned the game of golf at the Golf Club in town. There does not appear to be any evidence of him being a member of the Niagara-on-the-Lake Golf Club, but he was associated with it. In the early-1900s, he donated the "Servos Trophy", which was to be played for and won by men. To this day, it is still being used.
In September 1897, the Niagara-on-the-Lake Golf Club hosted the International Tournament, where players from Canada, England and the United States could play, and Servos competed. From here on out, his golf career seemed to really be taking off. In 1898, Launcelot designed and built a 12-hole golf course in Florida, which was one of, if not the first one in the State.
To further his golf career, Launcelot spent most of his time travelling and competing in tournaments as a professional golfer and was an instructor at various clubs throughout the United States. In 1905, he wrote the book "Practical Instruction in Golf", which he describes as his "endeavour to express in the most simple and thorough way my system of teaching golf". During the remainder of his professional golf career, he wrote a syndicated column on golf for various newspapers in the United States.
Launcelot would frequently visit his mother who lived in a house on Gate Street in Niagara-on-the-Lake. In 1918, while on one of these visits, he was charged and imprisoned in the local jail for being an "idler" and refusing to take up meaningful work during the First World War. As an American citizen, he was ineligible for conscription into the Canadian Expeditionary Force. He paid the necessary fine and then headed back to the United States. In 1960, he received a full pardon.
The late Al Derbyshire, a Niagara-on-the-Lake Golf Legend in his own right, often saw Launcelot head to the golf course in town to play a round or two. By this time, Servos was older, but Al remembered watching him play, hoping that one day he would be able to hit golf balls just as well.
By the end of his golf career, Launcelot Servos had given more than 75,000 golf lessons and was praised as one of the most successful golfers in the early days of the game. On May 11, 1969, he died at a nursing home in Toronto. He is buried in St. Mark's Cemetery in Niagara-on-the-Lake.