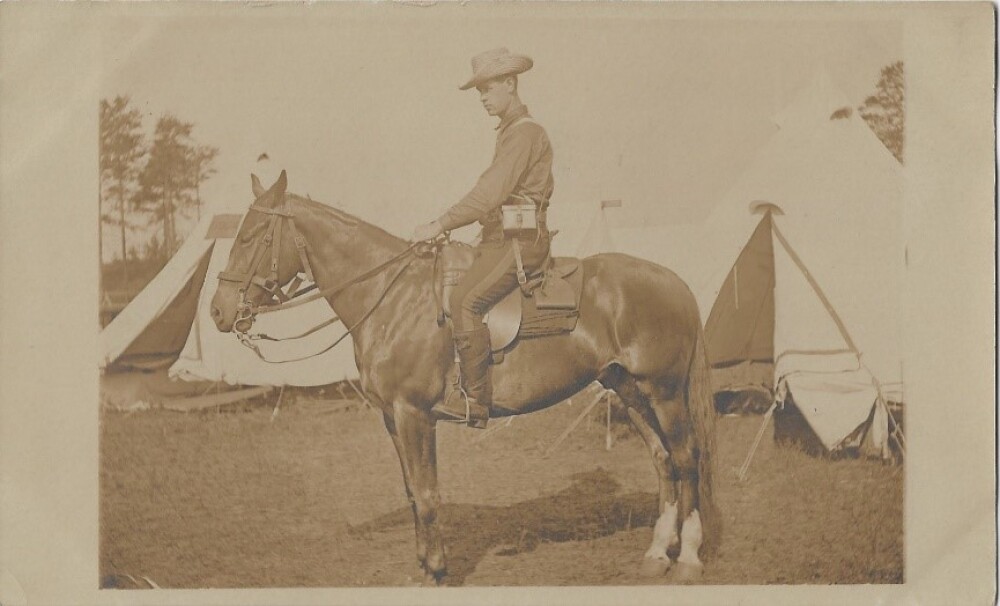 Not the Lone Ranger
Thursday August 10, 2023

When I first saw this somewhat faded photographic postcard at the Toronto Postcard Show in February, I didn't pay much attention. Just another rider acting like that western hero, The Lone Ranger.
Then I looked on the back and realized that the photographer had given us a valuable clue. He left his identifying stamp on the back – H. C. Goodman, St. Catharines.
Goodman may have left his mark on the photo, but he has left no mark on the Internet. Even searching eBay, I could find Benny Goodman and a host of other Goodman-type surnames in photographs on offer, but none for our intrepid St. Catharines photographer. Perhaps this is the only photo he ever took, which would be surprising since he had used a rubber stamp.
When in doubt, consult an expert. I sent the image to local expert Ron Dale, with my assumption that it might be a farrier at Niagara Camp on one of the magnificent horses in his care. Ron offered a more informed analysis –
I don't think he is a farrier but seems to be a trooper of one of the cavalry units that trained at Camp Niagara.  My money would be on a trooper of the 2nd Dragoons based in St Catharines, but he could also be from the 25th Brant Dragoons who also trained at Camp Niagara.  The date could be around 1910-15.  
I note that the soldier has a sword belt but no sword.  He is also wearing a straw hat which the soldiers dubbed "the cow's breakfast."  Many of the horses were rented from the Six Nations.  
This analysis opens up a few schools of thought. First, the St. Catharines photographer would likely have taken a photo of a member of the St. Catharines Dragoons, rather than the Brant Dragoons. Secondly, the reference to horses rented from the Six Nations is enlightening and thought-provoking. Were these animals subsequently purchased and sent overseas with the men, to serve in the war in Europe in a variety of roles? And my Chartered Accountant instincts wonder what kind of compensation the Six Nations received for their horses? Hopefully it was a fair one.
Thanks to Ron, we have confirmed another image of life at Niagara Camp. Not the Lone Ranger, not a farrier, but a bona fide Niagara Camp trainee. Thank you, Ron.