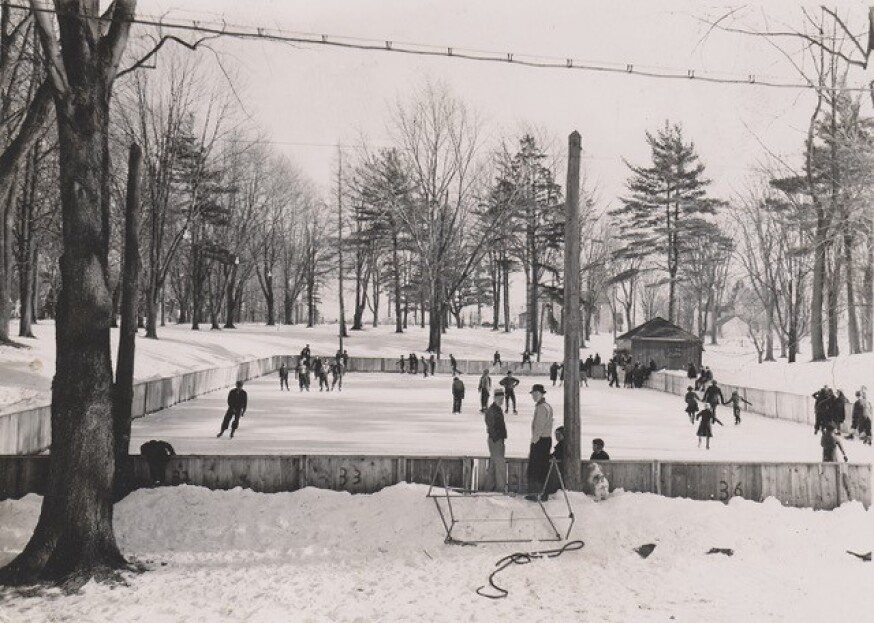 Old Town Christmas
Thursday December 1, 2022
Many locals remember the Christmases of the past in Niagara-on—the-Lake, with many parties and much merry-making, and get-togethers – of all kinds.If you weren't having cocktails, you were in church.
Terry Boulton admitted to hiding under the pews while his mother Jean and Mary Walsh sang duets.
Al Derbyshire married Vera Cooper, and they had open house on Christmas Eve for 56 years. And Al himself would often talk about those legendary parties.
Under the Christmas tree you might have found a Barbara Ann Scott Skating Doll, with her blue lace skating outfit trimmed with maribou feathers and wearing a pearl coronet. Or one of the new long-playing records - which could hold up to an astonishing 45 minutes of recorded music.
In town, Laurie Ferguson bought all her Christmas presents at the '5 to a dollar' store on Queen Street, opposite the courthouse.
Harry Huizer said they never called it the five to a dollar store because they never had enough money to spend a dollar there. It was always the "five and dime".
And then to get yourself looking all kinds of spiffy for Christmas, you might end up at Steeles and Curtis Barber shops or Mr. Barry's hair salon. Or buy yourself a new pair of slippers from Magdar's Shoe Store. And of course, there was always McClellands general store for all the Scotch eggs you could eat. And for everything else there was the Eatons catalogue.
As Chris Allen said, it was a different childhood - and it even seemed colder, he said, with more snow and ice rinks everywhere. There was one near the museum, one near the baseball diamond where the wartime houses were built, and one at Simcoe Park. Each year the volunteer firemen created those rinks, with a great deal of patience. And there was the hockey rink down at Queens Royal Park by the Gazebo, where the ice would freeze over the sandbank. Rob Bradley said you had to be careful where you shot the puck, and many were lost to the lake.
The Firemen also put on a Christmas party a week or so before Christmas. After the party, families would head over to Walt Theobalds to pick up a Christmas tree. It became a longstanding tradition.
And with all that wonderful Christmas music playing from the speakers on Queens Street it was a magical place. And still is.
One Christmas, Terry Boulton's mother bought his dad a tin fishing boat, about 14 or 16 feet long. She stored it at the Pattersons. They lived where the gas station is today at the corner of Mary and Mississauga. Late on Christmas night she woke up Terry and off they went to fetch the boat. Fortunately, there was a lot of snow on the ground. Mother and son were able to drag the boat across Mississauga and down Mary Street to their house, where they were able to leverage the boat up to the front porch. And that's where Terry's dad found it the next morning. The only problem was that he couldn't open the front door because it was wedged so tight. What a sight that must have been, dragging the boat through town in the middle of the night.
But yes, it was a different town alright.
The Cayuga docked every day until 1957.
The trains ran right through town.
There was one blacksmith.
And one policeman.
And Niagara Camp was still here.
Happy holidays, happy memories, and Merry Christmas.