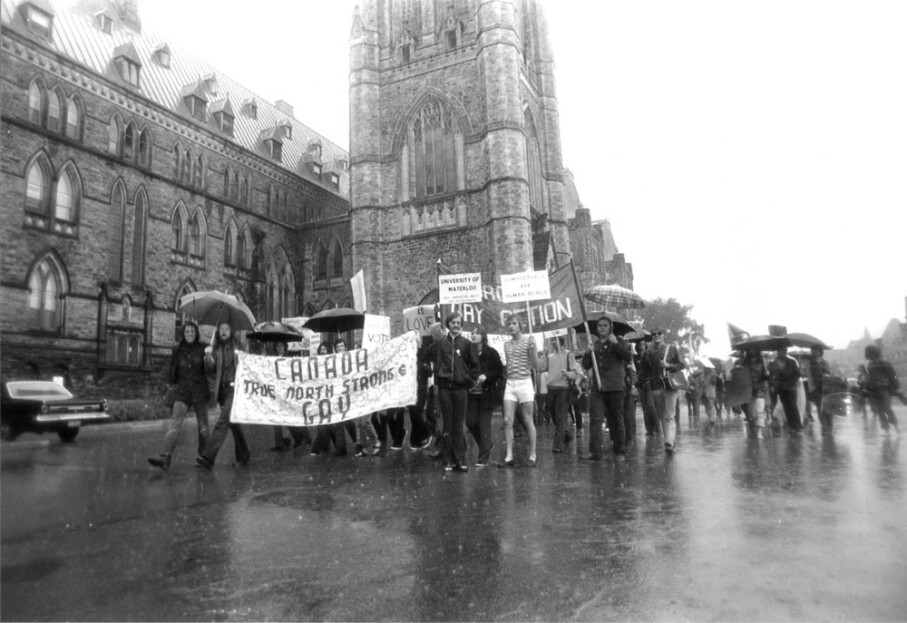 Telling the Untold: Pride at the NOTL Museum
Thursday June 8, 2023
Most museum collections don't represent all identities, perspectives, and experiences equally. And that is certainly true of our collection. This is partly due to what has survived, what was collected in the past, and how collection items have been researched and catalogued. But 2SLGBTQ+* culture can be found across history, even if it is not always immediately obvious.
From 1791 until 1845, Niagara (now Niagara-on-the-Lake) was the district capital for what is today the entire Niagara Region. In this capacity, Niagara was the location where judicial functions were performed, including the Quarter Sessions, and our Town was the site of the district's courthouse and jail.
In the Niagara District Quarter Session records, held at the Archives of Ontario, we can find evidence of the criminalization of homosexuality. During the colonial period, the law stated that sex or same-sex attraction (i.e. touching, kissing, dancing) between men was illegal. People who did not conform to heteronormativity were immoral, sick, or a danger. In fact, sodomy was punishable by death until 1869. While there is no evidence of anyone being executed for this act, many were imprisoned.
In the Niagara District Quarter Session Records, there is evidence of males, as identified by the magistrates, as committing acts of "buggery", which is essentially another word for sodomy.
In 1831, on the orders of David Thompson, James Logan was charged with "buggery" and was committed to the jail in Niagara, and in 1835, a 28-year-old wagon maker and member of the 3rd Battalion, Lincoln Militia, Patrick Cox, received the same charge. These men would have been held at the courthouse and jail where Rye Park is today. The outcome of their charges to this day remains unknown, they likely stayed in jail for a period if time.
In 1890, "gross indecency" was a new offence that made it easier to charge men with suspected sodomy. The original language in this offence referred to only acts between men. What constituted as "gross indecency" was never formally defined. In the decades that followed, men who engaged in same-sex relations were subject to arrest, even if the activities were in the privacy of their own homes.
During this time, the sexual orientation of women was ignored. This isn't that surprising since women during this period were often ignored. It wasn't until 1953 that specific references to men were removed from the "gross indecency" law, and same-sex relationships across genders were now considered to be a crime. This law was amended in 1969 and made some sexual orientations legal under certain circumstances, but discrimination towards the 2SLGBTQ+ remained and lasted for DECADES.
The 2SLGBTQ+ community began advocating for equal rights and the repeal of laws that discriminated against their community. In 1971, the first protests for LGBTQ rights took place in Ottawa and Vancouver, when people demanded an end to the discrimination against gays and lesbians. One year later, Toronto held its first pride parade. Slowly, the barriers that the 2SLGBTQ+ community had faced began to crumble. In 1978, the Canadian Immigration Act removed "homosexuals" from the list of banned persons; in 1998 it became illegal to discriminate based on sexual orientation; in 2000 "common law" expanded to include same-sex couples; and in 2005 marriage rights were given to all Canadian citizens.
From the persecution of Patrick Cox and James Logan for "buggery" at the Niagara Courthouse and Jail to the recent installation of the Progressive Pride crosswalk at Niagara Stone Road and Anderson Lane, we have come a long way in almost 200 years.
But the stories of Patrick and James should serve as a reminder that for centuries there have been countless people in NOTL and across Canada that have faced and continue to face discrimination and violence, either openly or privately, based on how they choose to identify.
There are people in our Town's history who may not have felt comfortable openly proclaiming their sexual orientation. And it's no wonder - they feared being persecuted. These beautiful stories of friendship, love, partnership, and pride have sadly remained hidden and are very much under-represented in our museum. It is vital that we continue to take action and change this.
At the NOTL Museum we're always adding to our collection, and it is important for us to continue our work in expanding our collection to include the stories of minority groups. We would like to develop our collection to include the history of Niagara-on-the-Lake's 2SLGBTQ+ community and we are keen to collect more items representing members of this community.
*2SLGBTQ+ stands for Two-Spirited, Lesbian, Gay, Bisexual, Transgender, Queer, and more.