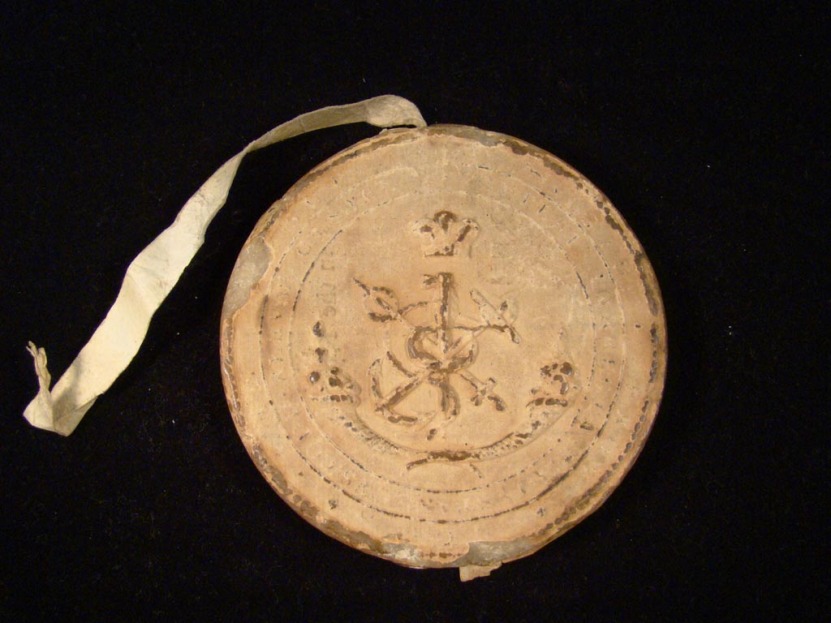 Seal of Approval
Thursday January 5, 2023
In the collection, we have a few different document seals made from wax— regular wax seals and Royal and/or Great seals. But what is the difference between these two?
Wax seals were typically used as a type of signature and offered proof of identity. These seals could appear directly on a document, or they were occasionally attached like a hanging seal. When we think of these kinds of seals, we often picture them to be red in colour.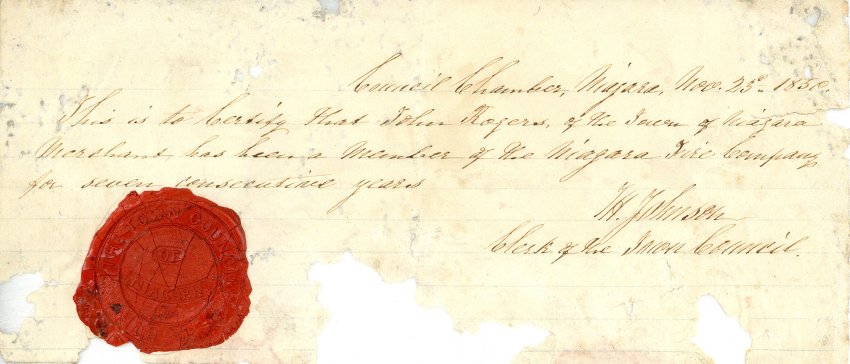 But Royal and Great seals are different. They are much larger in size and are attached to the bottom of the document as hanging seals. This is because a Royal or Great seal is double-sided. At the Museum, we have Royal seals for King George III, and we also have the Great Seal of Upper Canada. Both of these seals can be found on land grants, and they were used to certify that the holder was the official landowner. Documents featuring these seals showed their legitimacy in two ways—in written and in physical/visual (seal) form. This meant that no matter someone's education level, these documents were easily understood as official.
To reduce forgeries or tampering of official documents, only one Royal seal exists at any one time. Once a monarch dies, their original metal plate used to make their seal is destroyed. There is even a custodian that is responsible for the safekeeping of the Royal metal seal. They were known as the Keeper of the Great Seal, but today this person is known as the Clerk of the Crown in Chancery.
The Great Seal of Upper Canada, used during the reign of King George III, would have been applied to the land grants being issued by Lt. Gov. John Graves Simcoe in Niagara (today Niagara-on-the-Lake). This seal was first authorized by Royal warrant on March 28, 1792, and over the years, it underwent some small changes until it was no longer used in 1841. The seal that is pictured is the original Great Seal of Upper Canada that was created in 1792.
Today we, and many other museums and archives, are lucky if some of the oldest land grants in our collections still have their Royal or Great seal attached. Their method of attachment, coupled with what they are made from, beeswax, has resulted in many of these seals being lost or degraded over time. Still, our Museum is fortunate to have any early land grants in our collection as they provide us with information on the early settlement and settlers of Niagara.