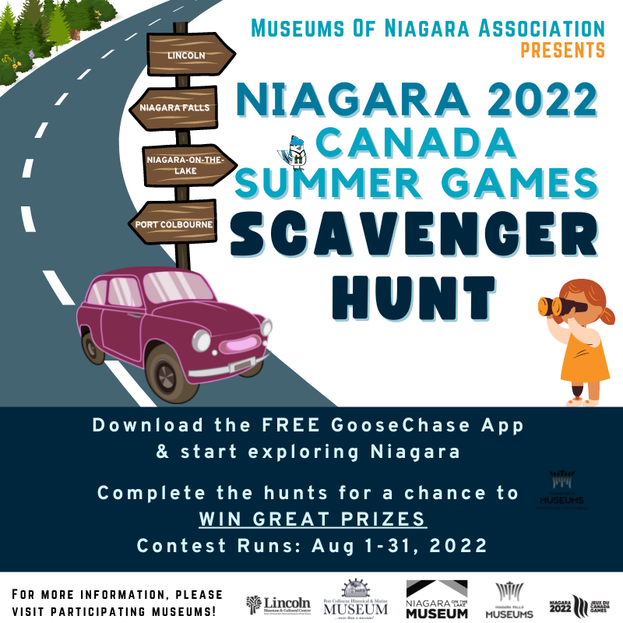 Monday, Aug 1st - Wednesday, Aug 31st
Starts: 9:00 AM | Ends: 5:00 PM
Niagara-on-the-Lake
Main
Upcoming
One Time Event
2022 Canada Summer Games Scavenger Hunt

Our Canada Summer Games Scavenger Hunt with the Museums of Niagara Association is a great way to spend time with family and friends. Hop in your car, have fun, explore the Region and learn some local history along the way.
This hunt includes several different missions across four communities in the Niagara Region where you will find the answers to questions about sport history, local sites and our museums. The hunt is on from August 1st to 31st and it's free to play on the GooseChase app.
How to Enter
GooseChase App: participants can join the competition through the free GooseChase app, which is available to download from the App Store or Google Play. Game codes:
Niagara-on-the-Lake Museum: BLJW91
Niagara Falls History Museum: XD9MWQ
Port Colborne Museum: 1GE7J5
Lincoln Museum & Cultural Centre: 5W7Q39
**Winners will be contacted through the GooseChase app so please do not delete the app after the game.
Scavenger Hunt Rules
No purchase necessary. The Scavenger Hunt is a free program organized by the Museums of Niagara Association.
Participants must follow all current provincial and public health guidelines while participating in the hunt.
The contest will open at 9 am on August 1 and close on August 31 at 5 pm
This is NOT a race, so take your time and enjoy!
Feel free to share photos of your day on our social media.

Photo & Video Submissions
Any photo or video content submitted as part of the scavenger hunt, including photos and videos uploaded on the GooseChase app, may be used by the participating museums from the Museums of Niagara Association on our social media channels, including our website and e-newsletters. This content may also be shared publicly in the app during and after the scavenger hunt
Prizes
Complete all missions within a community and your name will be entered into a draw to win a prize from that Museum. Complete all missions correctly in all four communities and be entered in a draw to win a grand prize sponsored by the Museums of Niagara Association.