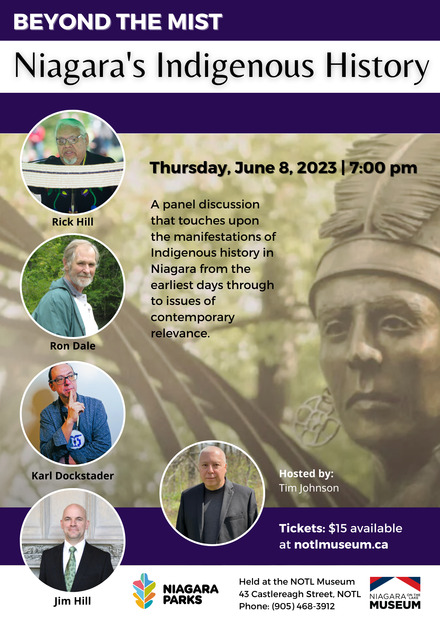 Thursday, Jun 8th - Thursday, Jun 8th
Starts: 7:00 PM | Ends: 8:00 PM
Niagara-on-the-Lake Museum, 43 Castlereagh Street, Niagara-on-the-Lake, L0S 1J0
Main
Upcoming
One Time Event
"Explore the Niagara" partnership program of the Niagara Parks Commission and the Niagara-on-the-Lake Museum
TICKETS: $15 per person (plus Eventbrite fees)
This program emerges directly from the development of Landscape of Nations: The Six Nations and Native Allies Commemorative Memorial, the spectacular public art exhibit in Queenston Heights Park that draws attention to the contributions Indigenous peoples made as allies to the Crown during the War of 1812.
Messages contained within the elements that comprise the Landscape of Nations Commemorative Memorial extend from the earliest understandings and interpretations of life on earth through the development of Indigenous peoples' cultures (taking into account matters of continuity and change over time) and onward to the establishment of kinship nations and the application of power, authority, and governance evidenced by Indigenous relations, diplomatic and otherwise, with European nations, particularly those of Great Britain and France.
The Niagara region is an area where significant Indigenous engagement took place, manifesting a history that dramatically shaped the contours of a country called Canada.
The program's panelists will touch upon the manifestations of Indigenous history from the earliest days when Indigenous eyes first witnessed the cresting of Niagara Falls some 12,500 years ago, through to issues of contemporary relevance.
Host: Tim Johnson - board member of the Niagara-on-the-Lake Museum and senior advisor to the Niagara Parks Commission. He is also senior advisor to the national Indigenous organization Plenty Canada, artistic director of The Great Niagara Escarpment Indigenous Cultural Map, and executive producer of the multiple award-winning documentary RUMBLE: The Indians Who Rocked The World.
Panelists:
Rick Hill

(Tuscarora Nation)- a renowned educator of Indigenous culture. His work has shaped the programming of many influential institutions including Deyohahá:ge: the Indigenous Knowledge Centre, Smithsonian Institution's National Museum of the American Indian, the Institute of American Indian Arts Museum, and McMaster University.

Ron Dale

- worked for the Canadian Government for 38 years in the National Historic Park system as an historian, National Historic Park superintendent, and programme planner, retiring in 2013. His formal studies focused on the Seneca Nation from 1754 to 1783.

Karl Dockstader

(Oneida Bear Clan) - is active in One Dish, One Spoon territories as an advocate for Indigenous peoples. He co-hosts the hit radio program One Dish, One Mic. Karl loves grassroots initiatives, is unafraid to take bold stances on matters that affect First Nations peoples..

Jim Hill

- has worked for Parks Canada, the Friends of Fort George, and, since 1996, the Niagara Parks Commission. He developed the Native interpretive programme at Old Fort Erie. Jim is currently the Superintendent of Heritage and Legacy for Niagara Parks and recently retired from the Reserve Army as a Captain with the Royal Canadian Artillery.